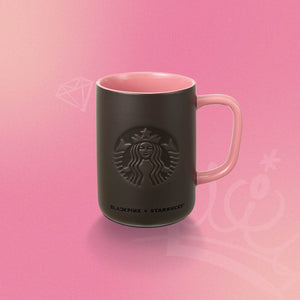 Starbucks Hong Kong Online Store
【Limited Pre-order】16OZ BLACKPINK REGRIND CERAMIC MUG (made with 30% regrind ceramic) 【限量預購】16OZ BLACKPINK 再生料陶瓷咖啡杯 (選用30%再生料陶瓷)
Regular price 原價
$200.00
$0.00
Unit price 單價
per 件
[JENNIE'S PICK]

Features & Benefits 產品特色
• 30% Regrind Ceramic
• Matte finish with embossed logo
• Sustain statement at back side

Materials 材料
• Body : 30% Regrind Ceramic

Care & Usage 使用須知
• For hot and cold beverage 


Reward 獎賞
Receive a tall handcrafted beverage coupon with each purchase of mug or tumbler at regular price
正價購買任何咖啡杯或隨行杯,可獲贈免費中杯裝手調飲品券一張


預購條款及細則("預購條款")
1. 預購期為2023年8月8日香港時間下午4時開始,直至Coffee Concepts (Hong Kong) Limited (「CCHK」)商品存貨售完 ("預購期") 。於預購期間,可供預購BLACKPINK 商品只限在專頁內所列商品("商品") , 數量有限,先到先得,售完即止("活動")。
2. 本活動須受本網站服務條款("網站條款")及本預購條款所限制。
3. 預購期間所預購之商品恕不退換及退款,預購訂單在付款後也不可取消或更改。
4. 獲CCHK接受訂單之商品將大約於2023年10月下旬至11月上旬期間送貨到您的指定送貨地址(星期六日及公眾假期除外)。
5. 本活動不可與其他推廣、折扣、員工優惠或優惠碼同時使用。如本預購條款與網站條款有不一致或有衝突,以本預購條款為準。
6. CCHK保留更改、暫停或取消此活動或修訂本預購條款之酌情權。
7. 如有任何爭議,CCHK對所有事宜及爭議保留最終決定權。

Pre-order Terms and Conditions ("T&Cs")
1. The pre-order period commences at 4:00 pm (Hong Kong time) on 8 August 2023 ("Pre-order Period"). All quantities of BLACKPINK merchandises ("Products") available are listed on this special page for order during the Pre-order Period on a first-come-first serve basis, while stock lasts ("Offer").
2. The Offer is subject to the relevant terms of service of this website ("Website TC") and these T&Cs.
3. All Products ordered during the Pre-order Period are not exchangeable or refundable, and all order of Product(s) cannot be cancelled or altered after payment.
4. The estimated delivery time of the Product(s) in the orders accepted by CCHK will be made to your specified delivery address between late October to early November 2023 (except for Saturdays, Sundays and public holidays).
5. The Offer cannot be used in conjunction with other promotion, discount, staff discount or discount code. If there is any conflict or inconsistency between Website TC and these T&Cs, the terms of these T&Cs shall prevail.
6. CCHK reserves the right to amend, suspend or cancel the Offer or amend these T&Cs.
7. In case of dispute, CCHK reserves the right of final decision on all matters and disputes.
---